.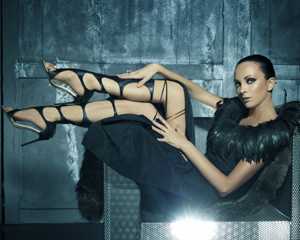 Italian born Daniela Galli, in art DHANY, is generally considered to be one of the best white soul voices on the dance scene. Strongly influenced by American R 'n' B vocal styles, the warmth and range of her vocal prowess stands out a mile both on stage and in the studio.
Her collaborations with the studio group KMC have resulted in two hot dance-soul singles:
SOMEBODY TO TOUCH ME
STREET LIFE
both of which have had international releases and substantial club chart success.
Dhany's first solo single DHA DHA TUNE (with dazzling video to match) became a pan-European clubland must and is a modern classic.
Her second single QUIERO RESPIRAR shows the 'caliente' soul of this superb performer and her ability to switch netween English and Spanish with ease and grace.
In 2000, Dhany guested on I WANNA BE FREE, the debut single by MUMM.
Her third solo single SHUT UP was also released to international dance-floor acclaim.
In 2001, a new KMC feat DHANY single, I FEEL SO FINE, was released in UK, USA and many other territories. It soon dominated club charts the world over and went high into the UK sales charts.
In the meantime QUIERO RESPIRAR became a smash hit in South America.
In 2004 she features on the Benassi Bros album 'PumPhonia',with the smash hit 'Hit My Heart' accompanied by a hot video shot in Rio de Janeiro,in Brazil.
'Hit My Heart' was a megahit in the French sales and club charts.
'PumPhonia' is a now gold album in France.
Dhany peforms in France on one sold-out tour after the other.
The second Benassi Bros. album 'Phobia' was released in 2005, heralded by the single and video, 'Make me feel', featuring Dhany. This was followed by 'Every Single Day'.
Look out for the blistering new single 'Rocket in the Sky', coupled with Dhany's hottest video to date.
Dhany?s touring has recently extended to Russia and other Eastern European territories and the Benassi Bros. album 'Phobia' is due for release in USA, too.